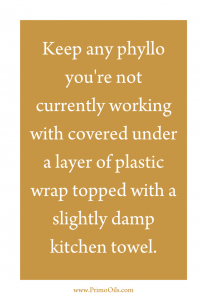 It's the holidays! And here at Primo, that means we get to make loads of delicious sides, snacks, and desserts for you to try and bring home to your own family. Sally brought in this incredible recipe that she originally found on Epicurious.
This is a delicious recipe and well worth the steps if you have the patience. Not only is it scrumdiddlyumptious but it looks absolutely decadent as well.
Now that we're carrying honey from Savannah Bee Company we get to try several delicious variations on this recipe. We've used the Orange Blossom Honey before but this year our favorite honey to use is the Lavender honey. This honey adds an herbaceous and fruity flavor to the Baklava. Here is the recipe with our signature Primo spin.
Original recipe found on Epicurious, Oct. 2017. By Katherine Sacks.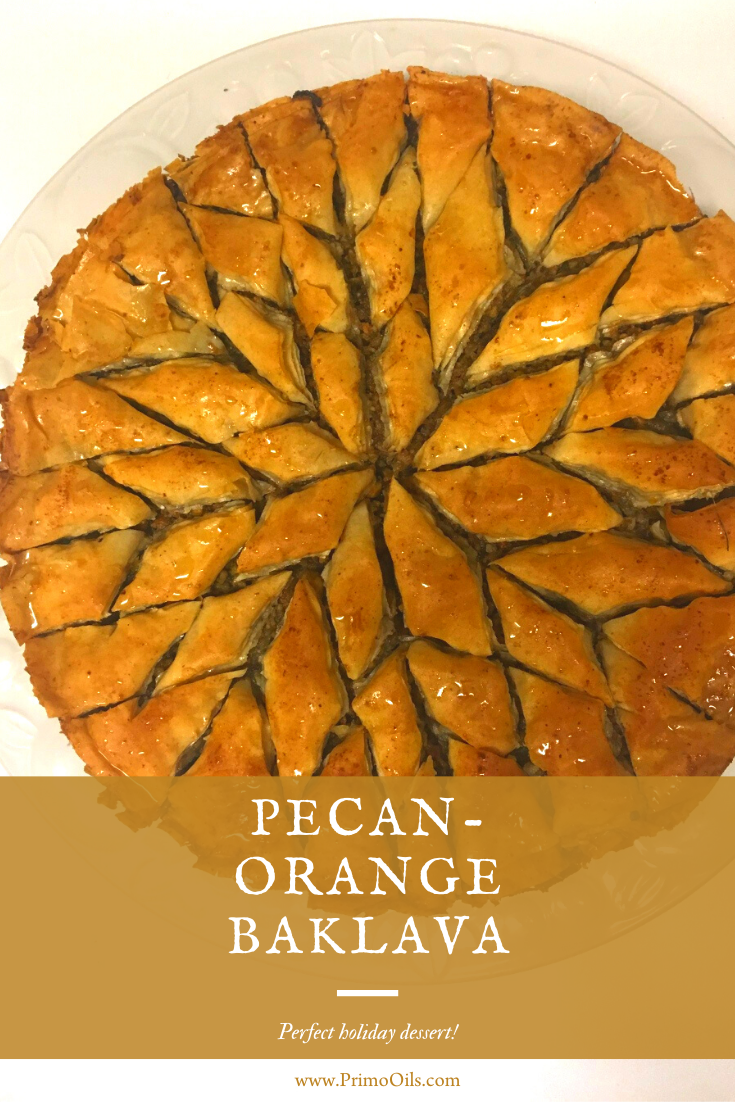 Sally's Pecan-Orange Baklava
Ingredients
⅔

cup

Lavender Honey

2 (3″)

cinnamon sticks

1 ½

cup

sugar

divided

3

tbsp

bourbon

3

cups

raw pecans

½

tsp

ground cinnamon

1

tsp

finely grated orange zest

plus 1 tsp orange curls

20 (17×12″)

sheets fresh phyllo pastry or frozen

thawed

1

cup

(2 stick) unsalted butter

melted
Instructions
Bring honey, cinnamon sticks, 1 c sugar, and 1 c water to a boil in medium heavy saucepan over med-high heat, stirring until sugar dissolves.

Reduce heat to medium and continue to boil until syrup is reduced to about 1.5 c, 15-18 mins.

Transfer to a. medium bowl, stir in bourbon, and let cool.

Spread pecans on large rimmed baking sheet and toast until golden brown, 13-15 mins. Let cool.

Transfer nuts to a food processor. Add ground cinnamon, 1 tsp orange zest, and remaining 1/2 c sugar. Pulse until coarsely chopped.

Place a stack of phyllo sheets on a work surface. Using base of springform pan as a guide, and starting at edge of phyllo, carefully cut out 20 (9″) circles, leaving as much phyllo remaining as possible. Cover phyllo circles. Using base of pan as a guide, cut remaining phyllo into 20 (4 1/2″) half circles.

Insert base into pan and secure the latch. Brush base with butter. Place 1 phyllo circle in pan and brush generously with butter. Top with 2 half-circles to create a full circle, brush with butter. Top with full circle, brush again. Top with 2 more half-circles at a 90° angle from the first half-circle layer, brush with butter. Top with a full circle, and brush again. You should have 5 layers of pastry (full circle – half-circles – full circle – half circles – full circle), with butter spread between each layer. Spread one-fifth of nut mixture over phyllo. Repeat layering 4 more times. Top with the 5 remaining phyllo circles; brush top with butter.

Using a sharp knife, score the top layer (do not cut through to bottom of pan) to divide into 4 quadrants. 

Working with 1 quadrant at a time, make 1 straight cut to divide the quadrant into 2 even wedges. Make 4 more straight cuts (2 each on either side of, and parallel to the quadrant division line), spacing evenly apart. Now working within each wedge, make 2 evenly-spaced cuts parallel to the outside edge of the quadrant, connecting at points with the previous cuts to form a diamond pattern. Repeat with the remaining quadrants to create a starburst pattern.

Transfer pan to a rimmed baking sheet and bake until phyllo is golden brown, about 45 minutes.

Spoon cooled syrup over hot baklava in 4 additions. Place orange curls on top. Let cool completely in pan. Remove springform ring and cut baklava along the scored lines.