Olive Oils: One of Nature's Greatest Gifts
This holiday season give the gift that keeps on giving. Primo Olive Oils and Balsamic Vinegars are the perfect gift for foodie friends and family alike. It's hard to shop for people because what do you get for the person who has everything? Several years ago one of our family friends made a holiday-gift-giving mandate; gifts must be depletable. Meaning it should be something that in a year it's gone. This is a great gift-giving rule for adults because most people have everything they need and want. Holiday gifts should be something that they can use and enhance their quality of life.

Foodie Gifts from Primo
At Primo Oils and Vinegars we specialize in depletable gifts. Our high end, delicious Olive Oils and Balsamic Vinegars are, of course, the number one and number two products that we recommend. They are the perfect culinary treat for the foodie in your life. You can purchase large 350ml bottles of our high end or flavored oils if there's one you know they will love. Our Tuscan Herb Olive Oil and Garlic Olive Oil are very popular options. We can also put together a sampling of 60 ml bottles into a gift pack. That way they can try a variety of flavors. Some flavor options we recommend are
Gift Pack Options
Taste of Italy Gift Pack:
Tuscan Herb Olive Oil, Garlic Olive Oil, Milanese Gremolata Olive Oil and Neapolitan Balsamic Vinegar
Citrus Punch Gift Pack:
Fused Blood Orange Olive Oil, Fused Eureka Lemon Olive Oil, Fused Persian Lime Olive Oil and Grapefruit White Balsamic
Foodie Favorites Gift Pack:
Neapolitan Herb Balsamic Vinegar, 18 Year Old Balsamic Condimento, Herbs de Provence Olive Oil, and White Truffle Oil
Premier Olive Oils Gift Pack:
Arbonasa Extra Virgin Olive Oil, Early Harvest Cobrancosa EVOO, Frantoio Extra Virgin Olive Oil and Mission EVOO
Dessert Balsamics Gift Pack:
Aged Dark Chocolate Balsamic, Aged Natural Fig Balsamic, Aged Tahitian Vanilla Balsamic, and Lavender Balsamic
Or we can put together a flavor pairing of your choosing. Maybe you know someone who loves to grill. We can put together an olive oil and balsamic vinegar gift pack to assist them in making mouth-watering marinades. Or perhaps the foodie in your life is more of a salad aficionado. Our flavored olive oil and balsamic pairings can take their salads to the next level of flavor. Whatever the palate preferences of your foodie friends we have the perfect thing.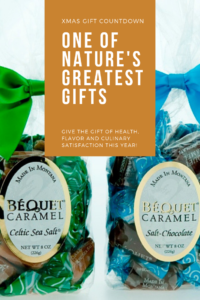 If you are looking to expand your depletable gift options we have a wide range or high-end culinary treats.
Bequet Caramels
Enjoy the full flavor of some of the purest ingredients available. No preservatives, no corn syrup, and no artificial colors or flavors. Certified gluten-free, kosher, and packaged in a nut-free facility.  The best carmels…ever!
Lifetime Candles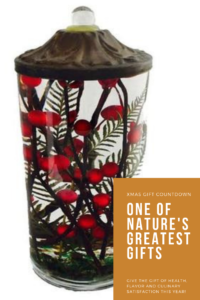 These are depletable but also re-usable! Beautiful red berries and ferns are sealed inside the glass decorative container with a separate wick inserted into the top. Lifetime fiberglass wick never needs replacing. The Lifetime Candles use smokeless, odorless, paraffin candle oil, easily found at local stores. If your loved one is more into non-traditional looks we have other non-holiday styles available to fit their home décor. And at a price point of $32-$85 there's one for everyone on your list.
Stop into Primo Oils and Vinegars to see the wide range of culinary treats available. We have everything from local honey and tea to spice blends and rubs. Be the hero of the gift giving season with our unique and delicious olive oil and balsamic vinegar products.
Happy Holidays! And, as always, to your health!