Delicious Metabolic Reset Recipes from Primo Vinegars
When Miranda Sommer of Whole Heart Health and Wellness approached Primo Oils about a Metabolic Reset Meet & Greet we were only too happy to offer Primo Oils as a venue. You may not think of Primo Oils as the perfect fit for a Metabolic Reset event but we're here to tell you that we've got a lot more than just olive oils. Primo has just as many Balsamic Vinegar flavors as we do EVOO.
Balsamic Vinegar is a kitchen essential and one that, like olive oil, people overlook or think comes in just "plain". Our balsamic vinegars come in a wide variety of flavors from the drinkable Aged Natural Fig Balsamic to a salad-ready Neapolitan Herb Balsamic Vinegar. And every flavor in between.
We hope you enjoy these recipes that we shared at the Meet & Greet event.
Primo Vinegar Metabolic Reset Recipes
Salads
Arugula Heirloom Salad
This is a great starter for grilled steak or chicken. We recommend using a good salt like a sea gris.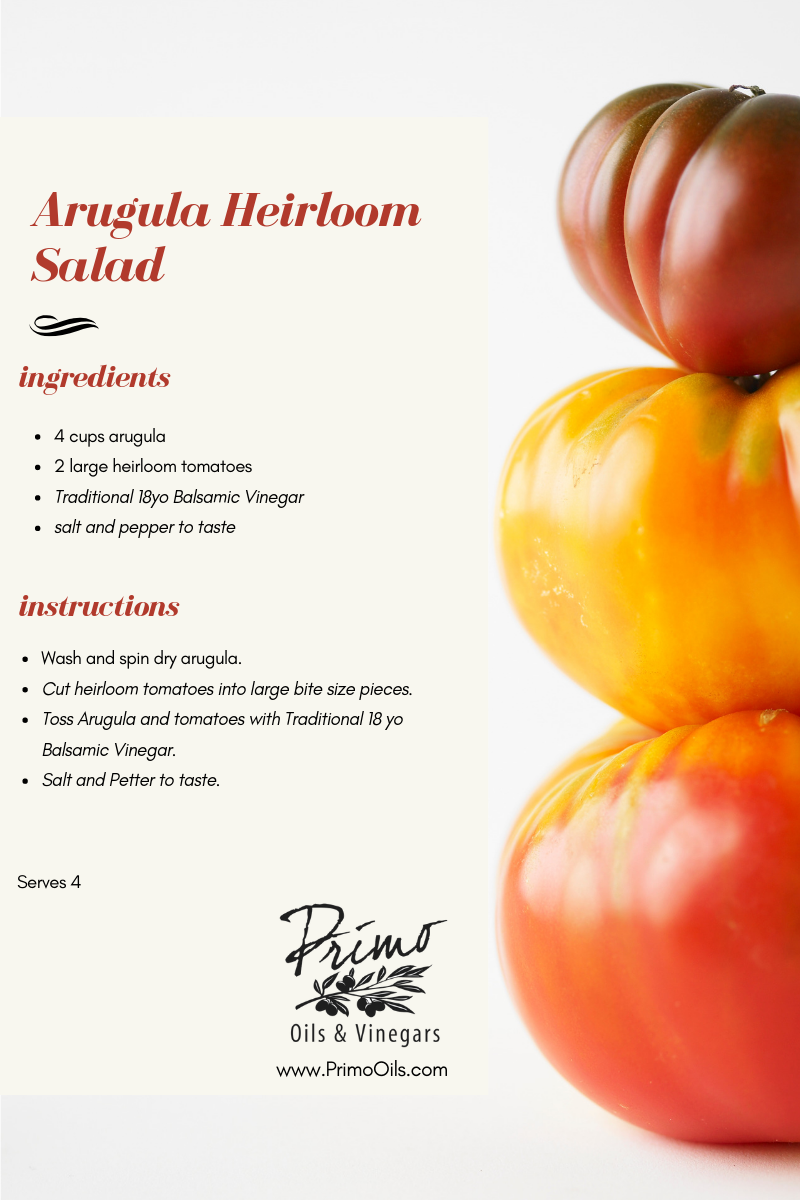 Ingredients
4 cups arugula
2 large heirloom tomatoes
salt and pepper to taste
Instructions
Wash and spin dry arugula.
Cut heirloom tomatoes into large bite-size pieces.
Toss Arugula and tomatoes with Traditional 18 yo Balsamic Vinegar.
Salt and Petter to taste.
Pickled Beet Salad
Pickled beets are available in the produce aisle of most grocery stores.
Ingredients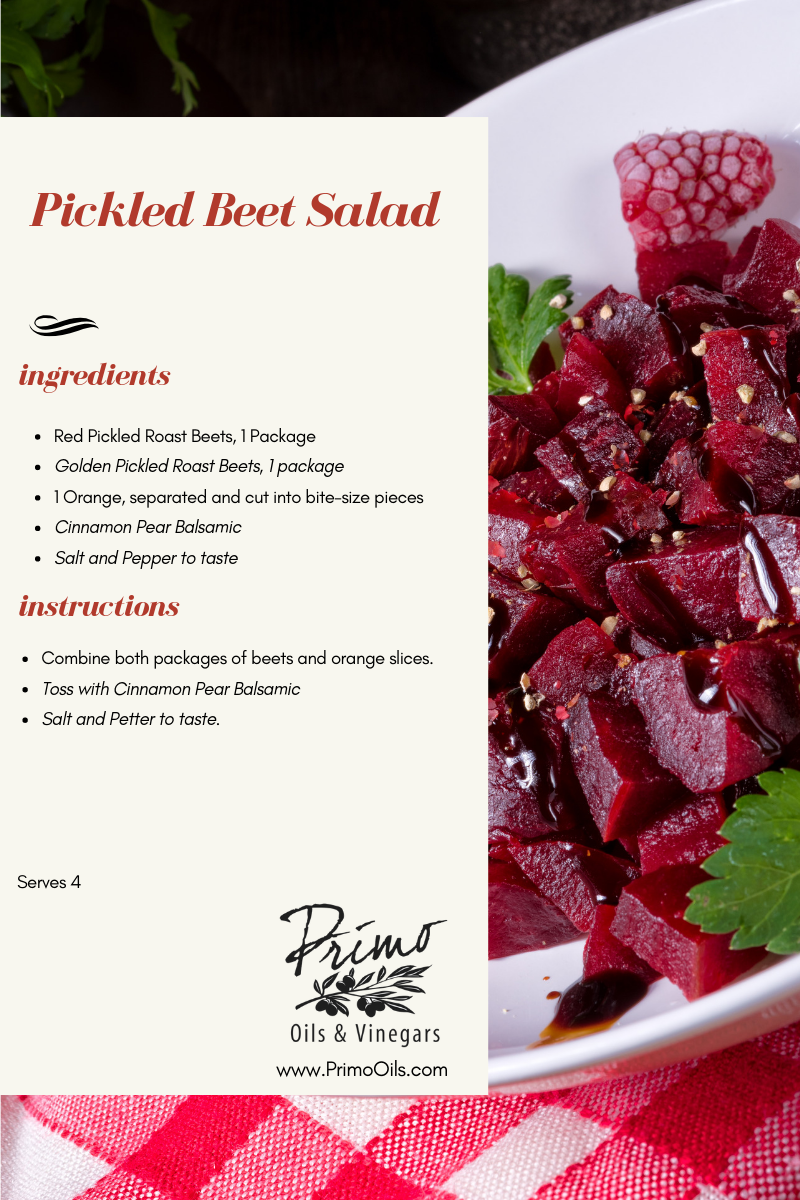 Red Pickled Roast Beets, 1 Package
Golden Pickled Roast Beets, 1 package
1 orange, separated and cut into bite-size pieces
salt and pepper to taste
Instructions
Combine both packages of beets and orange slices.
Toss with Cinnamon Pear Balsamic
Salt and Petter to taste.
Fruit and Berry Salad
This is a delicious spin on the traditional fruit salad. A great option for Easter or a brunch.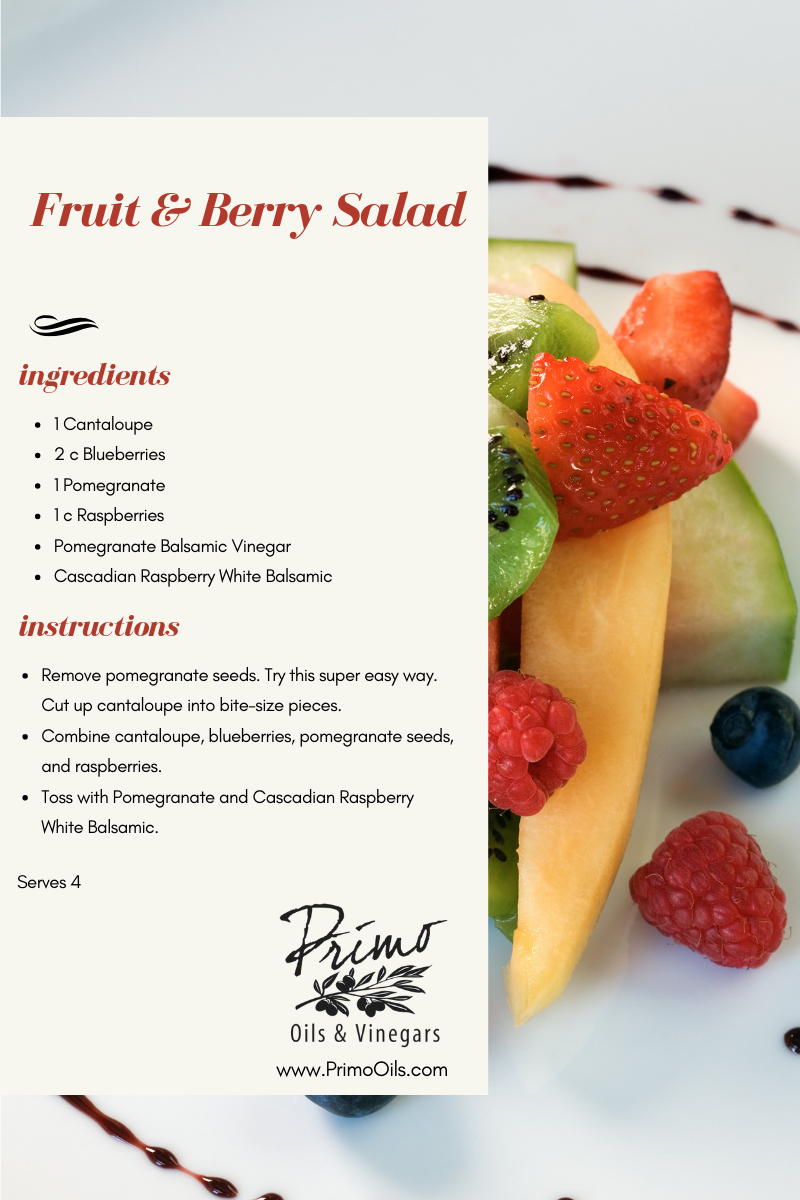 Ingredients
1 Cantaloupe
2 c Blueberries
1 Pomegranate
1 c Raspberries
Instructions
Remove pomegranate seeds. Try this super easy way. Cut up cantaloupe into bite-size pieces.
Combine cantaloupe, blueberries, pomegranate seeds, and raspberries.
Toss with Pomegranate and Cascadian Raspberry White Balsamic.
Main Dishes
Pulled Chicken-Apple Salad
This is a nice light dish to have on a hot night. You can pick up a rotisserie chicken at the store so there's no need to heat up your kitchen!
Ingredients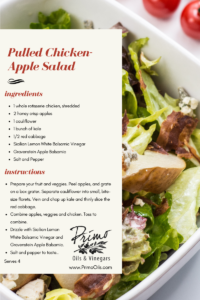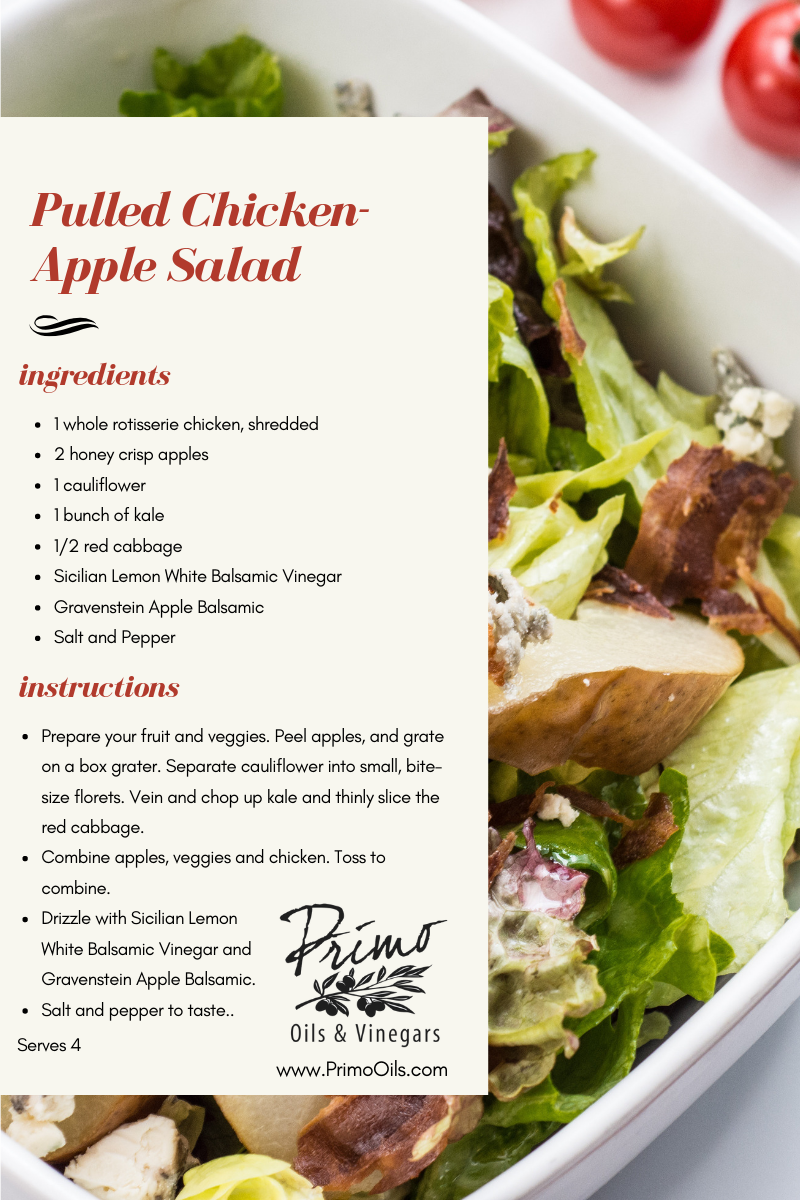 1 whole rotisserie chicken, shredded
2 honey crisp apples
1 cauliflower
1 bunch of kale
1/2 red cabbage
Salt and Pepper
Instructions
Prepare your fruit and veggies. Peel apples, and grate on a box grater. Separate cauliflower into small, bite-size florets. Vein and chop up kale and thinly slice the red cabbage.
Combine apples, veggies and chicken. Toss to combine.
Drizzle with Sicilian Lemon White Balsamic Vinegar and Gravenstein Apple Balsamic. Salt and pepper to taste.
Balsamic Flank Steak
A great steak recipe. We like that this is a pan-seared steak so you don't have to wait for good BBQ weather.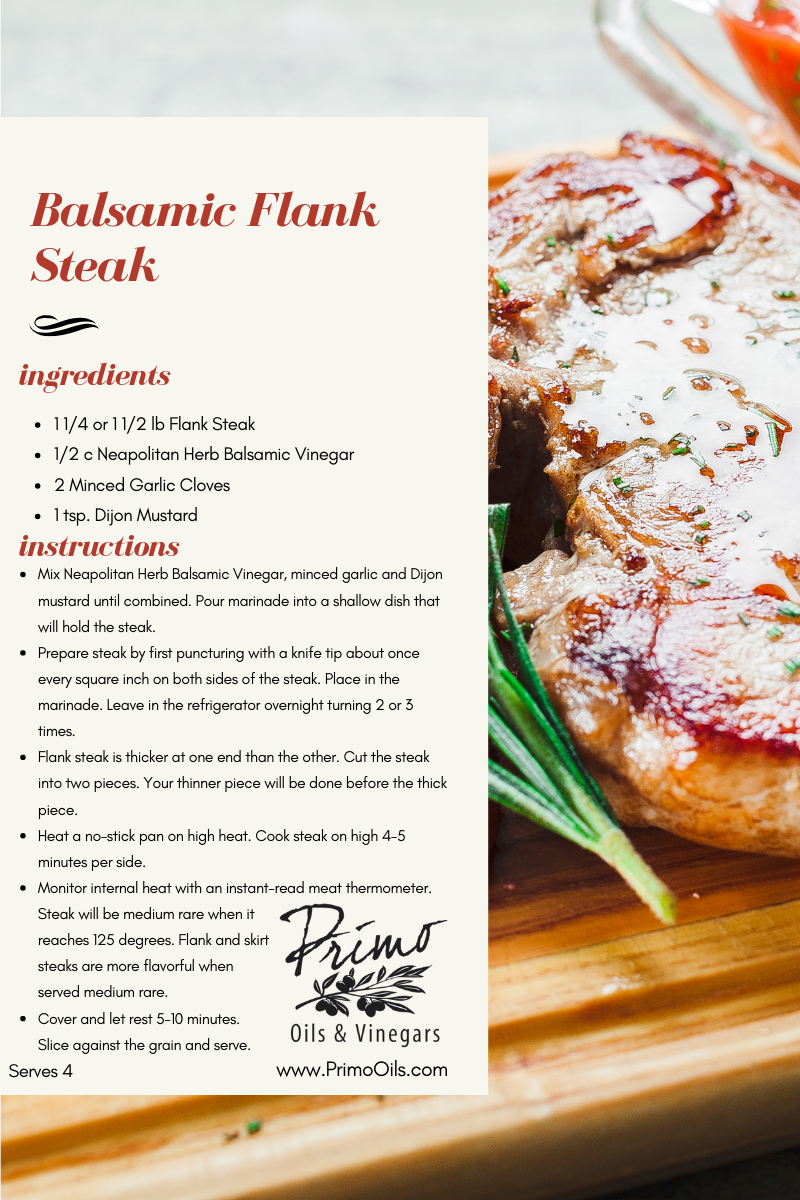 Ingredients
1 1/4 or 1 1/2 lb Flank Steak
2 Minced Garlic Cloves
1 tsp. Dijon Mustard
Instructions
Mix Neapolitan Herb Balsamic Vinegar, minced garlic and Dijon mustard until combined. Pour marinade into a shallow dish that will hold the steak.
Prepare steak by first puncturing with a knife tip about once every square inch on both sides of the steak. Place in the marinade. Leave in the refrigerator overnight turning 2 or 3 times.
Flank steak is thicker at one end than the other. Cut the steak into two pieces. Your thinner piece will be done before the thick piece.
Heat a no-stick pan on high heat. Cook steak on high 4-5 minutes per side.
Monitor internal heat with an instant-read meat thermometer. Steak will be medium rare when it reaches 125 degrees. Flank and skirt steaks are more flavorful when served medium rare.
Cover and let rest 5-10 minutes. Slice against the grain and serve.
Looking for more delicious balsamic vinegar recipes? You can check out the recipe link on our website here.
To your health!